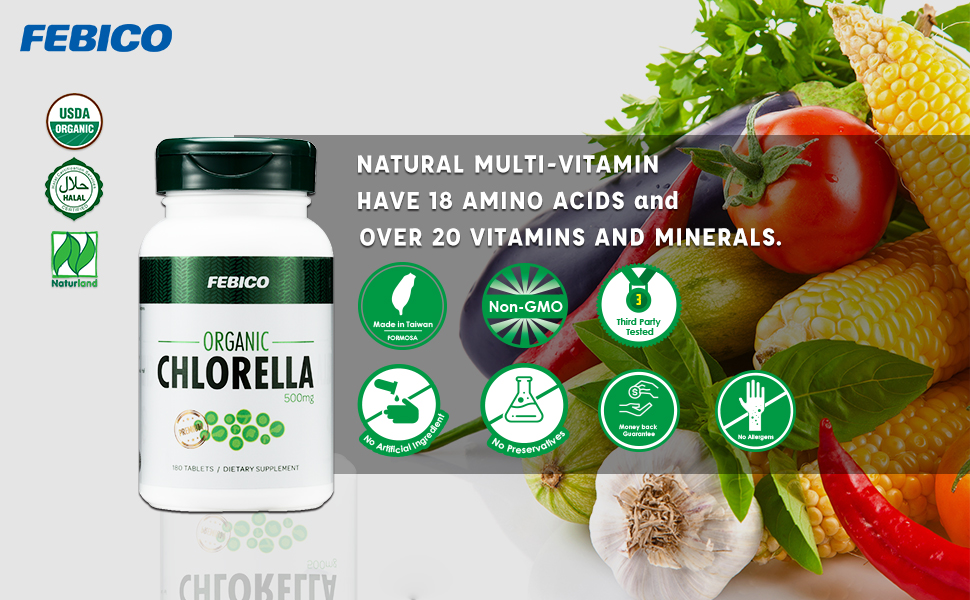 Chlorella is one of the oldest species of algae in the entire world. It has the highest chlorophyll content of any known plant and this gives chlorella its deep green color. So chlorella is not only super-healthy, but also very sustainable.
We called Chlorella as "Natural Multi-Vitamin" because it provides full range of health advantages. Chlorella is enriched with chlorophyll as well as countless other nutrients, meaning it can provide health benefits in different ways. Studies have found chlorella is able to fight obesity, speed up fat loss, and increase the metabolism – resulting in energy levels.
Major Benefits of Chlorella
1. Supports the immune system
2. Rich in plant-based proteins
3. Promotes weight loss
4. Helps prevent and fight cancer
5. Detoxifies the body
About Febico Organic Chlorella Tablets:
[ORGANIC CHLORELLA- PROTEIN SHAKE FROM THE OCEAN, SWIM FOR HOURS LIKE A FISH] – Our Chlorella is with No binders, No artificial coloring, No artificial flavoring, and absolutely No preservatives. Our patented "Cracked Cell Wall" process enhances Chlorella absorption rate from 40% to 90% while maintaining all nutrients.
[DETOX NATURALLY/BODY IMMUNE SYSTEM STRENGTHEN]- Chlorella is often called the king of superfoods which contains rich vegan proteins, nutrients and vitamins that promote many aspects of health including detoxification, nerve health, and immunity.
[FIT IN THAT JEANS / DRESS YOUR LOVE FROM FOREVER 21]- You may find some study showed on the internet that chlorella inhibited the growth of baby fat cells. This is important because baby fat cells readily mature and become active fat-storing cells when a person eats too much. Chlorella also inhibited existing mature fat cells from storing new fat. Furthermore, higher doses of chlorella helped knock out the excess fat cell population
[EASY TO TAKE& INCREASES PROBIOTICS]- Each Febico Organic Chlorella tablets are glossy, flawless and easy to swallow. Another fascinating is, Chlorella is also rich in prebiotic fiber. This is a special kind of fiber that is indigestible, which is a good thing because this allows it to act as food and fuel for the good probiotic bacteria in your gut, causing them to multiply rapidly and exponentially
[Certificated and Own Manufactured]- Has Naturland Organic Chlorella Certification No.100241, USDA-NOP Organic Certification and 3rd party tested, TUV/SGS, it also with Gluten free, Non-GMO, manufactured, packed, and sealed in our own factory.
Recommended Dosage and the time for taking chlorella
T-REX [Carnivore] --3g (6 tablets)
Oviraptoridae [Omnivore]-- 2g(4 tablets)
Brachiosaurus [Herbivore]-- 1g (2 Tablets)
Different doses work for different people. The correct dosage depends on your lifestyle and eating preference. Usually we suggest take 1-3g daily and the dosage reference base on eating preference is as above.
Divide the quantity to be taken in multiple times through the day, half an hour before meals, improves your digestion as well as aids the absorption of nutrients much more efficiently. Or you could take spirulina in morning, and take chlorella in evening to sustain digestive function and good sleep.
Febico Patent Broken Cell Wall Technology
FEBICO Chlorella is processed with patented "Cracked Cell Wall", which is able to enhance Chlorella absorption rate from 40% to 90% while maintaining all nutrients.
Our patent technique is different from the traditional trituration technique which is usually used in the food supplement production process. The traditional way is to grind the chlorella and break its cell wall; however, this method remains heavy metal pollution in Chlorella and make it lose mineral and nutrients.
The principle of Febico patent "Cracked Cell Wall" technology is pop the cell wall like popcorn. The cellulose cell wall of chlorella will be cracked by certain pressure and temperature difference, but the nutrition will be 100% preserved. So the digestive rate is twice the amount compared to most marketed chlorella.
Benefits of Chlorella