Travel Set:
Organic Chlorella 500mg x 30 tablets
Vegan DHA Algae Oil 500mg x 3

0 capsules
What is Febico Organic Chlorella and What is Febico Algae Oil DHA?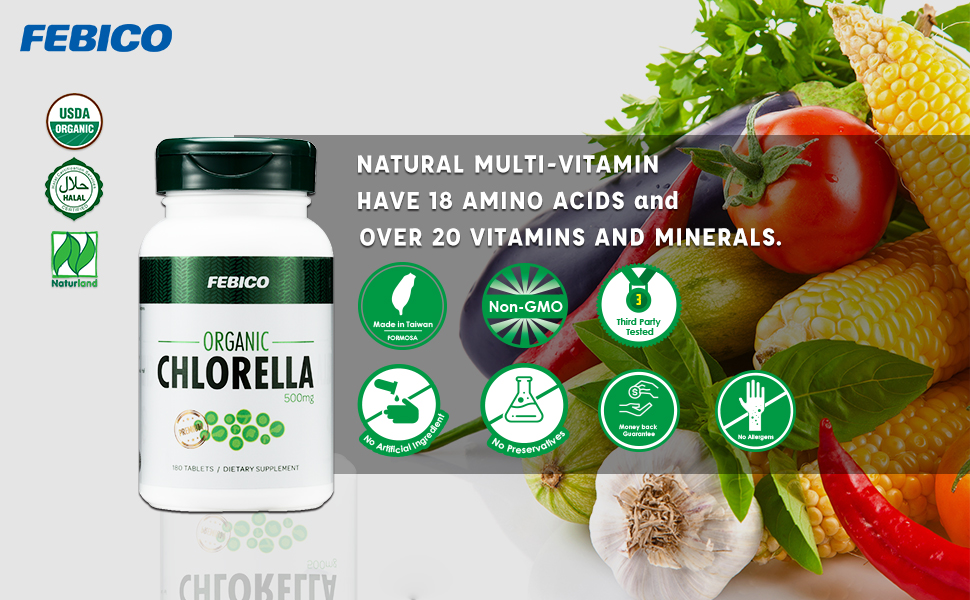 Chlorella is one of the oldest species of algae in the entire world. It has the highest chlorophyll content of any known plant and this gives chlorella its deep green color. So chlorella is not only super-healthy, but also very sustainable.
We called Chlorella as "Natural Multi-Vitamin" because it provides full range of health advantages. Chlorella is enriched with chlorophyll as well as countless other nutrients, meaning it can provide health benefits in different ways. Studies have found chlorella is able to fight obesity, speed up fat loss, and increase the metabolism – resulting in energy levels.
Major Benefits of Chlorella
1. Supports the immune system
2. Rich in plant-based proteins
3. Promotes weight loss
4. Helps prevent and fight cancer
5. Detoxifies the body
About Febico Organic Chlorella-Travel Pack:
♦ [ORGANIC CHLORELLA- PROTEIN SHAKE FROM THE OCEAN, SWIM FOR HOURS LIKE A FISH] – Our Chlorella is with No binders, No artificial coloring, No artificial flavoring, and absolutely No preservatives. Our patented "Cracked Cell Wall" process enhances Chlorella absorption rate from 40% to 90% while maintaining all nutrients.
♦[Easy Travel Pack] Afraid of lacking vegetable and energy during business trip or outside? Bring chlorella with you so you can refresh anytime anywhere. Also you could purchase Febico 250 tablets large pack so you could refill it base on the days and amount you need.
♦[DETOX NATURALLY/BODY IMMUNE SYSTEM STRENGTHEN]- Chlorella is often called the king of superfoods which contains rich vegan proteins, nutrients and vitamins that promote many aspects of health including detoxification, nerve health, and immunity.
♦[EASY TO TAKE& INCREASES PROBIOTICS]- Each Febico Organic Chlorella tablets are glossy, flawless and easy to swallow; another fascinating is, Chlorella is also rich in prebiotic fiber. This is a special kind of fiber that is indigestible, which is a good thing because this allows it to act as food and fuel for the good probiotic bacteria in your gut, causing them to multiply rapidly and exponentially.
♦[Certificated and Own Manufactured]- Has Naturland Organic Chlorella Certification No.100241, USDA-NOP Organic Certification and 3rd party tested, TUV/SGS, it also with Gluten free, Non-GMO, manufactured, packed, and sealed in our own factory.
Recommend Dosage and the time for taking chlorella
Different doses work for different people. The correct dosage depends on your lifestyle and eating preference. Usually we suggest take 1-3g daily and the dosage reference base on eating preference is like below :
T-REX [Carnivore] --3g (6 tablets)

Oviraptoridae [Omnivore]-- 2g(4 tablets)

Brachiosaurus [Herbivore]-- 1g (2 Tablets)
Divide the quantity to be taken in multiple times through the day, half an hour before meals, improves your digestion as well as aids the absorption of nutrients much more efficiently. Or you could take spirulina in morning, and take chlorella in evening to sustain digestive function and good sleep.
Where do Fish Get Their Omega-3? From Algae!
Everyone knows that fish are a rich source of DHA, but few people know that fish get DHA from the algae they eat in their food chain.
Thus, DHA is actually a product of algae. In other words, why we need to take a reproduction to instead of algal oil DHA?
Febico Alage DHA goes straight to the source, our microalgae grows in a controlled enviroment, there's no pollution, surrounded by mountains, and uses the cleanest mineral water.
With Febico Algae DHA Oil Capsule, you could take pure Omega-3 fatty acids without the toxins of fish (dioxins, pcb' s, mercury, etc.) and enjoy the fresh compared to fish oil.
About the product
[Necessity During Pregnancy]- 500 mg/V-Capsule, 30 Capsules/bottle. Contains microalgae DHA, Astaxanthin, PS(Phosphatidylserine), Lecithin. The perfect combination-DHA+PS+PC(Soy Lecithin) of brain support and development of pregnant woman and fetus.
[Not Only DHA]- Febico DHA capsules offer suitable dosage and pure quality of fatty acids, sufficient Lecithin, astaxanthin and other vitamins to support maintaining cellular fluidity, normal memory, cognition, emotional well-being, and vision.
[No contaminated]- Extracted from microalgae , 100% vegetarian supplement. Free of toxins and allergens from fish oil. Moreover, Febico uses supercritical CO2 extraction to prevent any residues and pollutants in DHA oil.
[Easy to Swallow]- Vegan and small size capsule, made from HPMC; easy to swallow and with no suffering while taking. Algae based source has no fishy smell taste or aftertaste. Ensure that you get daily recommended amount DHA without any burden or unpleasantness.
[Quality Certified]- Febico is well known as an algae series supplement manufactory, all the products we provide are manufactured by an FDA approved and HACCP licensed factory. High quality guaranteed.
Ingredients
DHA algae oil, Phosphatidylserine, Lecithin, Astaxanthin
Perfect Formula for Pregnancy-- DHA+PS+PC(Soy Lecithin)+Astaxanthin
Febico 4 in 1 DHA provides a full range health care during pregnancy
Algal Oil DHA:
Algal oil is derived directly from algae. It is a rich source of DHA which account for 97 percent of the form of Omega-3 needed by the brain.
Omega-3 fatty acids are considered essential and are critical compounds that the body cannot make. Unlike some fish oils can end up being contaminated by natural impurities found in the surrounding water or the fish's diet, Febico's algae are farm-raised and grown in clean, unpolluted water. By utilizing these benefits, we're able to offer you a product free of toxins and preservatives, but a higher quality DHA.
Phosphatidylserine (PS):
Phosphatidylserine (PS) is a fatty substance called a phospholipid, contains both amino acids and fatty acids, it is essential component in all our cells, specifically,for the cell membrane.
The omega-3 fatty acids and DHA work synergistically with PS for building healthy cell membranes. Also, phosphatidylserine is found in the myelin sheath that encases our nerves and is responsible for the transmission of impulses.Thus, research has shown PS can decrease the severity of depression, help combats depression. Also, PS is able to promotes memory and cognition, boosts the mood and relieves stress.
Astaxanthin:
Recognized as the super-antioxidant, often called "the king of the carotenoids," astaxanthin is 10 to 100 times more powerful than other carotenoids like beta-carotene and lycopene. Study has showed that astaxanthin can help to smooth wrinkles, make age spots smaller, and help maintain skin moisture.
Febico uses SFE (Supercritical Fluid) CO2 extraction to extract Astaxanthin from Haematococcus pluvialis, no solvent residues, provide you a beauty skin, and support your eye health and heart health.
Soy Lecithin:
Lecithin, a lipid material, contains a variety of compounds, including fatty acids, triglycerides and carbohydrates, a major component of cell membranes.
And Soy lecithin is a mixture of mainly PC (phosphatidylcholine), which is used by the body to produce acetylcholine, a chemical necessary for proper brain function.During your pregnancy, your baby consumes much of your available choline, so it is important to get some lecithin supplement to replenish what baby is taking to support brain development of fetus.