Organic Chlorella 500mg x 180 tablets
Organic Spirulina 500mg x 180 tablets
Vegan DHA Algae Oil 500mg x

60 capsules
What is Febico Organic Chlorella?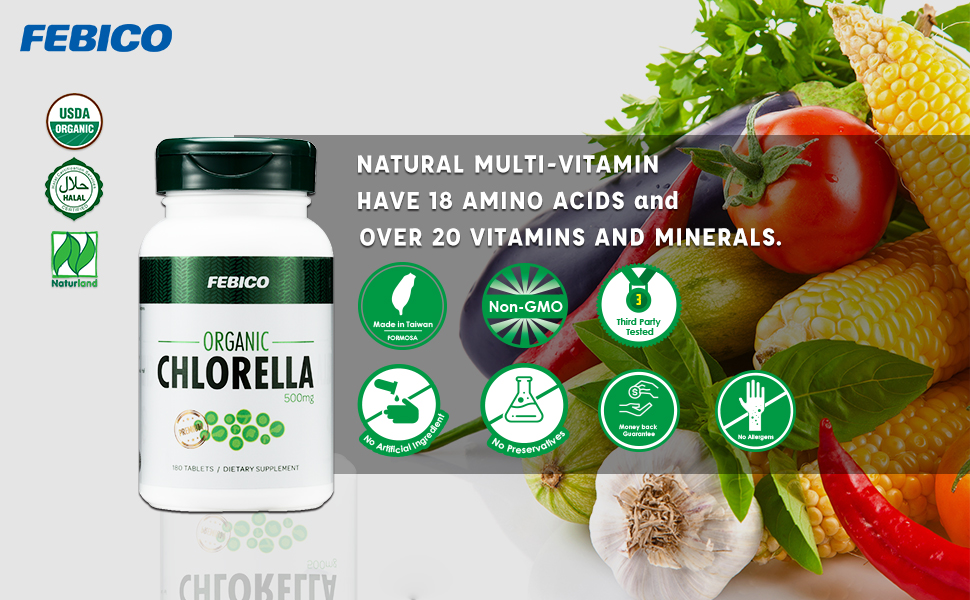 Chlorella is one of the oldest species of algae in the entire world. It has the highest chlorophyll content of any known plant and this gives chlorella its deep green color. So chlorella is not only super-healthy, but also very sustainable.
We called Chlorella as "Natural Multi-Vitamin" because it provides full range of health advantages. Chlorella is enriched with chlorophyll as well as countless other nutrients, meaning it can provide health benefits in different ways. Studies have found chlorella is able to fight obesity, speed up fat loss, and increase the metabolism – resulting in energy levels.
Major Benefits of Chlorella
1. Supports the immune system
2. Rich in plant-based proteins
3. Promotes weight loss
4. Helps prevent and fight cancer
5. Detoxifies the body
About Febico Organic Chlorella Tablets:
[ORGANIC CHLORELLA- PROTEIN SHAKE FROM THE OCEAN, SWIM FOR HOURS LIKE A FISH] – Our Chlorella is with No binders, No artificial coloring, No artificial flavoring, and absolutely No preservatives. Our patented "Cracked Cell Wall" process enhances Chlorella absorption rate from 40% to 90% while maintaining all nutrients.
[DETOX NATURALLY/BODY IMMUNE SYSTEM STRENGTHEN]- Chlorella is often called the king of superfoods which contains rich vegan proteins, nutrients and vitamins that promote many aspects of health including detoxification, nerve health, and immunity.
[FIT IN THAT JEANS / DRESS YOUR LOVE FROM FOREVER 21]- You may find some study showed on the internet that chlorella inhibited the growth of baby fat cells. This is important because baby fat cells readily mature and become active fat-storing cells when a person eats too much. Chlorella also inhibited existing mature fat cells from storing new fat. Furthermore, higher doses of chlorella helped knock out the excess fat cell population
[EASY TO TAKE& INCREASES PROBIOTICS]- Each Febico Organic Chlorella tablets are glossy, flawless and easy to swallow. Another fascinating is, Chlorella is also rich in prebiotic fiber. This is a special kind of fiber that is indigestible, which is a good thing because this allows it to act as food and fuel for the good probiotic bacteria in your gut, causing them to multiply rapidly and exponentially
[Certificated and Own Manufactured]- Has Naturland Organic Chlorella Certification No.100241, USDA-NOP Organic Certification and 3rd party tested, TUV/SGS, it also with Gluten free, Non-GMO, manufactured, packed, and sealed in our own factory.
Spirulina-Alkaline Superfood: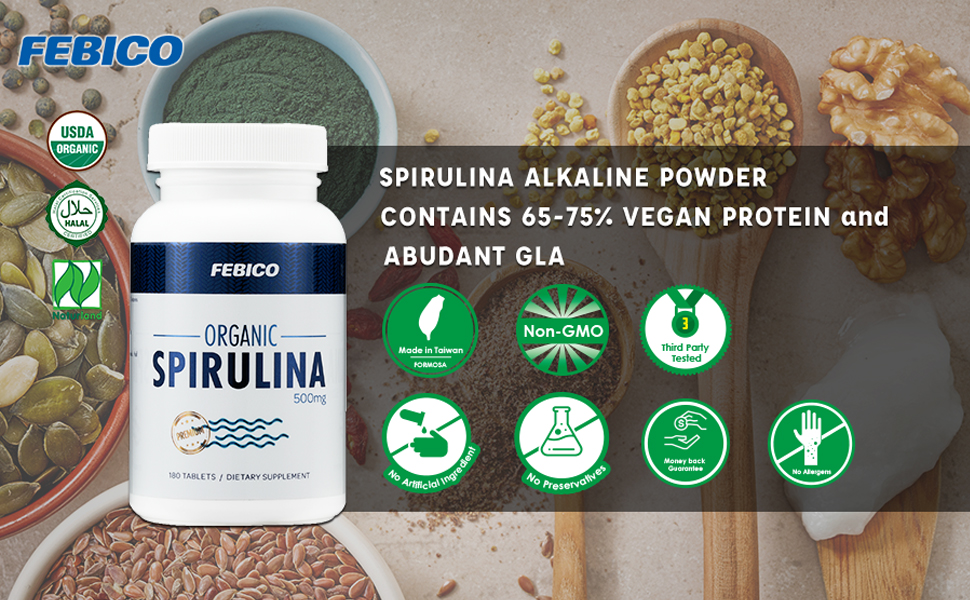 About Febico organic spirulina:
[PURE ORGANIC SPIRULINA FROM TAIWAN]: Febico has 140,000 m2 manufacturing site with over 60 microalgae culture ponds, and the production facilities are certified by HACCP, ISO 22000. Plus, both spirulina and chlorella certified by USDA National Organic Program (NOP), Naturland, Halal Certificate. Provide you the purest and the cleanest spirulina and chlorella.
[Purity- Nothing but Spirulina]: The finest ingredients which is cultivated in pure mountain spring water, unpolluted area and sunny sunlight. Febico's spirulina is no GMOs, no binders, no artificial colors, no artificial flavoring, and no preservatives added, just the best 100% pure spirulina nutritive ingredient. Also, 100% vegan friendly.
[Boost Energy and Supports Immunity]: Spirulina riches in beta-carotene and the essential fatty acid GLA, iron, B-complex vitamins, vitamins D, E and C, along with potassium, selenium, manganese, copper, chromium, magnesium, phosphorus and zinc. Spirulina provides support for the body's immune system and also the energy to recover quicker.
[Nature Alkalizing Superfood]: Spirulina is rich in protein containing all the essential amino acids. It contains the highest concentration of protein of any plant, herb or animal on per gm basis. It contains 70% of Vitamin B12 complex, and 18 kinds of Essential Amino Acids and antioxidants. Boost your daily energy with all nature sourced vitamins!
[Daily Green Latte with Spirulina- Get Extra Energy]: Start your morning with Fresh Green Latte? Add Febico spirulina powder in your green latte or mixed with drinks, smoothies or added in meals like salads or appetizers to elevate nutrition facts. As one of the top superfoods in the world, it can provide nutrition to help support many organs and bodily functions.
Where do Fish Get Their Omega 3? From Algae!
Where do Fish Get Their Omega3? From Algae!
About the product
[Necessity During Pregnancy]- 500 mg/V-Capsule, 60 Capsules/bottle. Contains microalgae DHA, Astaxanthin, PS(Phosphatidylserine), Lecithin. The perfect combination-DHA+PS+PC(Soy Lecithin) of brain support and development of pregnant woman and fetus.
[Not Only DHA]- Febico DHA capsules offer suitable dosage and pure quality of fatty acids, sufficient Lecithin, astaxanthin and other vitamins to support maintaining cellular fluidity, normal memory, cognition, emotional well-being, and vision.
[No contaminated]- Extracted from microalgae , 100% vegetarian supplement. Free of toxins and allergens from fish oil. Moreover, Febico uses supercritical CO2 extraction to prevent any residues and pollutants in DHA oil.
[Easy to Swallow]- Vegan and small size capsule, made from HPMC; easy to swallow and with no suffering while taking. Algae based source has no fishy smell taste or aftertaste. Ensure that you get daily recommended amount DHA without any burden or unpleasantness.
[Quality Certified]- Febico is well known as an algae series supplement manufactory, all the products we provide are manufactured by an FDA approved and HACCP licensed factory. High quality guaranteed.
Ingredients
DHA algae oil, Phosphatidylserine, Lecithin, Astaxanthin