Spirulina-Alkaline Superfood:
About Febico organic spirulina:
[PURE ORGANIC SPIRULINA FROM TAIWAN]: Febico has 140,000 m2 manufacturing site with over 60 microalgae culture ponds, and the production facilities are certified by HACCP, ISO 22000. Plus, both spirulina and chlorella certified by USDA National Organic Program (NOP), Naturland, Halal Certificate. Provide you the purest and the cleanest spirulina and chlorella.
[Purity- Nothing but Spirulina]: The finest ingredients which is cultivated in pure mountain spring water, unpolluted area and sunny sunlight. Febico's spirulina is no GMOs, no binders, no artificial colors, no artificial flavoring, and no preservatives added, just the best 100% pure spirulina nutritive ingredient. Also, 100% vegan friendly.
[Boost Energy and Supports Immunity]: Spirulina riches in beta-carotene and the essential fatty acid GLA, iron, B-complex vitamins, vitamins D, E and C, along with potassium, selenium, manganese, copper, chromium, magnesium, phosphorus and zinc. Spirulina provides support for the body's immune system and also the energy to recover quicker.
[Nature Alkalizing Superfood]: Spirulina is rich in protein containing all the essential amino acids. It contains the highest concentration of protein of any plant, herb or animal on per gm basis. It contains 70% of Vitamin B12 complex, and 18 kinds of Essential Amino Acids and antioxidants. Boost your daily energy with all nature sourced vitamins!
[Daily Green Latte with Spirulina- Get Extra Energy]: Start your morning with Fresh Green Latte? Add Febico spirulina powder in your green latte or mixed with drinks, smoothies or added in meals like salads or appetizers to elevate nutrition facts. As one of the top superfoods in the world, it can provide nutrition to help support many organs and bodily functions.
What is Spirulina? Nutrition of Spirulina
Spirulina is a blue-green microalgae, grows in both fresh and salt water, which is also one of the oldest life forms on Earth. It grows in water with a high pH (alkaline) and after it has been harvested, you can buy spirulina in tablet, flake, powder and liquid forms. And now it is generally called "superfoods" today.
The nutrition of 7 grams of spirulina powder/tablet contains
• Protein: 4 grams.
• Vitamin B1 (Thiamin): 11% of the RDA.
• Vitamin B2 (Riboflavin): 15% of the RDA.
• Vitamin B3 (Niacin): 4% of the RDA.
• Copper: 21% of the RDA.
• Iron: 11% of the RDA.
• It also contains decent amounts of magnesium, potassium and manganese, and small amounts of almost every other nutrient that we need.
Spirulina Alkaline Power
And because spirulina grow in extremely alkaline water, it is considered highly alkalizing foods. Keep pH balance is crucial to your health. In fact, the pH of your blood must be kept at a precise level (between 7.35-7.45 on the pH scale), otherwise great imbalances (and dis-eases) will happen. Spirulina alkaline abilities offer a convenient solution to the pH problems of most diets, it will help raise the pH level and become more alkaline. Eventually, this will promote to increase the bone mass and vastly improved metabolic functions.
Incorporate spirulina alkaline in your diet, you'll be well on your way to stay alkaline.
Spirulina-- A Complete Food
Specifically, spirulina is packed with all these vital nutrients that can protect you from illness and disease:
Beta-carotene--- Spirulina has 10 times the beta-carotene of carrots, which is can be antioxidants
Complete protein-- Spirulina is between 65 and 75% protein and contains all nine essential amino acids.
Essential Fatty Acids-- Gamma linolenic acid (GLA), one of the rarest essential fatty acids, is found in spirulina.
Vitamins-- B vitamins, vitamin C and E are all present in spirulina.
Minerals-- Spirulina is a rich source of potassium, as well as calcium, chromium, copper, iron and magnesium.
Phytonutrients-- Spirulina has plant-based nutrients which including chlorophyll, polysaccharides, sulfolipids, and glycolipids.
Phycocyanin--A unique spirulina Extract, which is known to support healthy inflammatory response and has many antioxidant effects.
For daily maintenance, standard daily dose of spirulina is 1-3 grams and will show to have some effect.
Chlorella v.s. Spirulina: The differences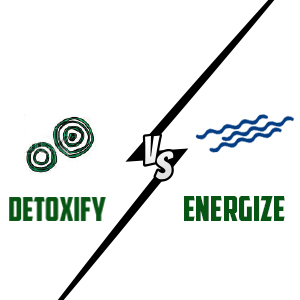 What's the difference between them and which of these two superfoods would benefit them the most?
Chlorella is a green unicellular freshwater algae that is rich in protein, vitamins (including vitamin B12), minerals (especially iron), amino and nucleic acids. Chlorella algae boast a high chlorophyll content that helps cleanse our blood and tissue, making it particularly useful for detoxification. Also, Chlorella contains a special Growth Factor which can help repair damage to nerve tissue and is ideal for those with degenerative brain and nerve disorders
Spirulina is a blue-green unicellular freshwater algae packed with protein, vitamins (including vitamins A, B1, B2, B6 and K), essential minerals (including iron, calcium and magnesium), trace minerals, essential fatty acids, nucleic acids (both RNA and DNA), polysaccharides and antioxidants. Especially Spirulina is a better source of GLA (gamma-linoleic acid), a 'good' fat that is essential for healthy brain and heart function


Spirulina Has Powerful Antioxidant and Anti-inflammatory Properties
Spirulina Can Lower LDL and Triglyceride Levels
Boosts Energy- Green smoothie with Spirulina